I read a fascinating post on the Jezebel website by Kelly Faircloth  in which she recounted the history–or, per the title of her post, the "steaming, throbbing history"–of the covers of romance novels, from the sweet innocent covers of the 1950s to the soft-porn bodice-rippers of later decades, many of which featured the male model
Fabio, such as the cover shown on the right for Johanna Lindsay's Gentle Rogue. Some of those later covers edged even closer to hard-core porn, including the one at the top of this post for Tender is the Storm, which, as Ms. Faircloth writes, "features a frankly shocking amount of naked, manly haunch and appears to depict a man outright thrusting his penis between a woman's abundant breasts."
And thus while many of us invoke that old platitude that you can't tell a book by its cover, those in the marketing departments of the major publishers roll their eyes and chuckle at our naiveté. And those marketing department chucklers, along with their insights, far predate the romance novel era of the final decades of the 20th century. Many of the most strikingly original covers date back to novels published before World War II–novels that can be found today not in the Romance section of your local bookstore but in the snootier Literature section.
For example, one of my favorite covers is, not coincidentally, the cover of one of my favorite novels, The Great Gatsby, which was published more than a half-century before Fabio and his ilk starting ripping bodices off of pretty young women.

Or let us go back a full century before Gentle Rogue to the top contender for the title of the Great American Novel, the first edition of which had a cover that was not too shabby.
To browse through a striking collection of book covers from that earlier era, check out "The Art of Book Covers (1820-1914) at the Public Domain Review, which includes these beauties:
And while design fashions change over time, a simple image is often the most powerful one to reel in your potential reader, as the covers of these two two mega-bestseller show: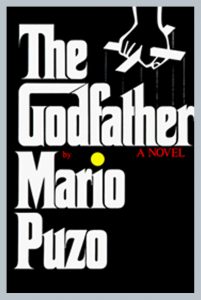 My own novels have had a wide variety of covers, but the most interesting contrast is between the original hardback version of my first novel, published under the title The Canaan Legacy, and the paperback edition published under the title Grave Designs. (The change in title is a subject for another post.) At the heart of the novel is a mystery over the contents of a grave at a pet cemetery–and thus each of the designers chose to depict that mystery on the cover in their own way, as shown below:

So what's my favorite cover? I confess my aesthetics may have been influenced by reading aloud a particular story dozens and dozens of times to each of my five children and now to several of my grandchildren. It also happens to be the cover of one of my favorite books as well. And for those of you with children or who have fond memories of your own childhood, you may have already guessed the title and the cover. If not, here it is: